Contact Us
NetFoundry customers and partners can reach our Customer Support team 24 x 7 x 365 through any of these channels:
NetFoundry Console

. Login to https://nfconsole.io/login. On the Dashboard page, click on Support found in the left navigation panel. Then, click on the Submit a Ticket button.

NetFoundry Support Hub

. Go to https://support.netfoundry.io/hc/en-us and click on Submit a Request button.

Email

. You can send us an email directly at support@netfoundry.io

if and only if both the NetFoundry Support Hub and the NetFoundry Console are inaccessible

(i.e., under maintenance, website down).
Should a customer or partner reach us via our toll-free line found on our website, they will be automatically redirected to a mailing box prompting them to leave a voice message.
Checklist when submitting a ticket
⁃ Use your Organization's email address when submitting a ticket.
⁃ Always specify your contact name and your preferred availability with time zone for troubleshooting.
⁃ The subject line should be specific to the issue or query. If you have a company-wide format for subject lines, then you may follow it.
⁃ The description of your concern must be detailed, specific, and direct. Start with the statement of the problem or incident, and ends it with what you want us to do from our end.
⁃ For all support issues, we recommend you to provide us the following details under the description box:
Organization name
Network name
Edge Router/s affected
AppWAN/s affected
Service/s affected
Endpoint/s affected
Timestamp of the issue (optional)
⁃ Carefully choose the right labels (i.e., component, type, and severity level) appropriate for your concern. For the ticket type, select Problem if is affecting all users. Otherwise, select Incident. Doing this will help us identify which escalation team shall we forward your ticket.
⁃ For endpoints and edge router-related issues, attach the adequate logs on the ticket so we can immediately analyze them as soon we receive your tickets. Below are some articles that may be of help to you in initial troubleshooting as well as collecting logs
https://support.netfoundry.io/hc/en-us/articles/4869550165773-NetFoundry-Support-Playbook
Submitting a ticket via Netfoundry Console
Option #1. Submit A Ticket
1. Log in to https://nfconsole.io/login.
2. On your left navigational panel, click on Support denoted by a question symbol.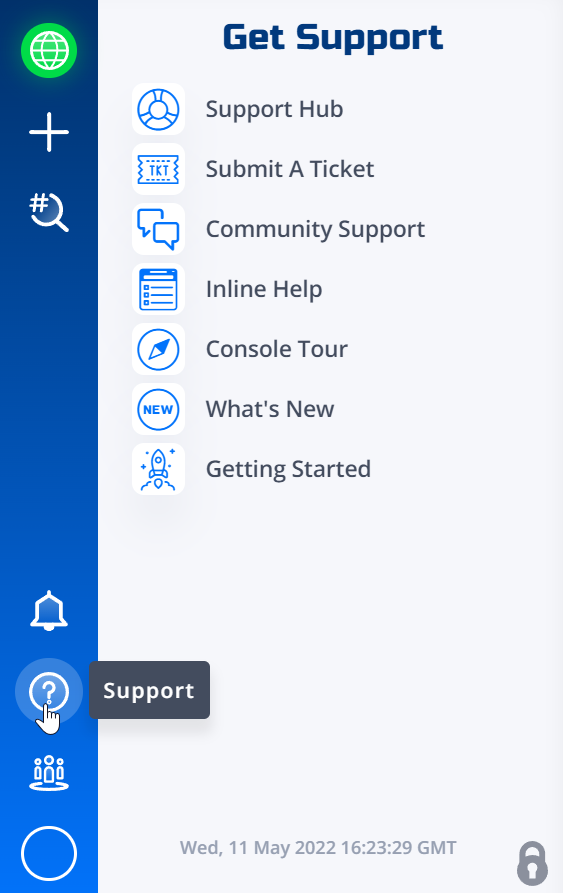 3. Click on Submit a Ticket. A pop-up window will appear.
4. Fill in all the details that will help us understand the support issue.
5. Click on Submit.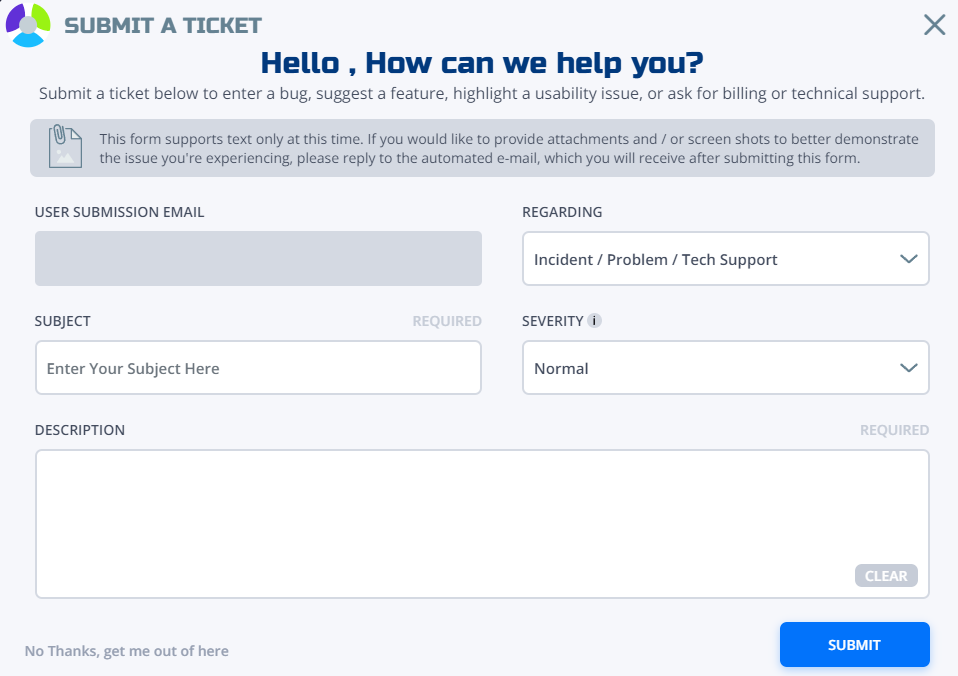 Severity Level of the Support Request.
Severity 1 - Urgent
Severity 2 - High
Severity 3 - Normal / Low
Option #2. Inline Help
1. Log in to https://nfconsole.io/login.
2. On your left navigational panel, click on Support denoted by a question symbol.
3. Click on Inline Help. A pop-up window will appear.
4. Click on Contact Us and fill in all the required details.
5. Click on Send.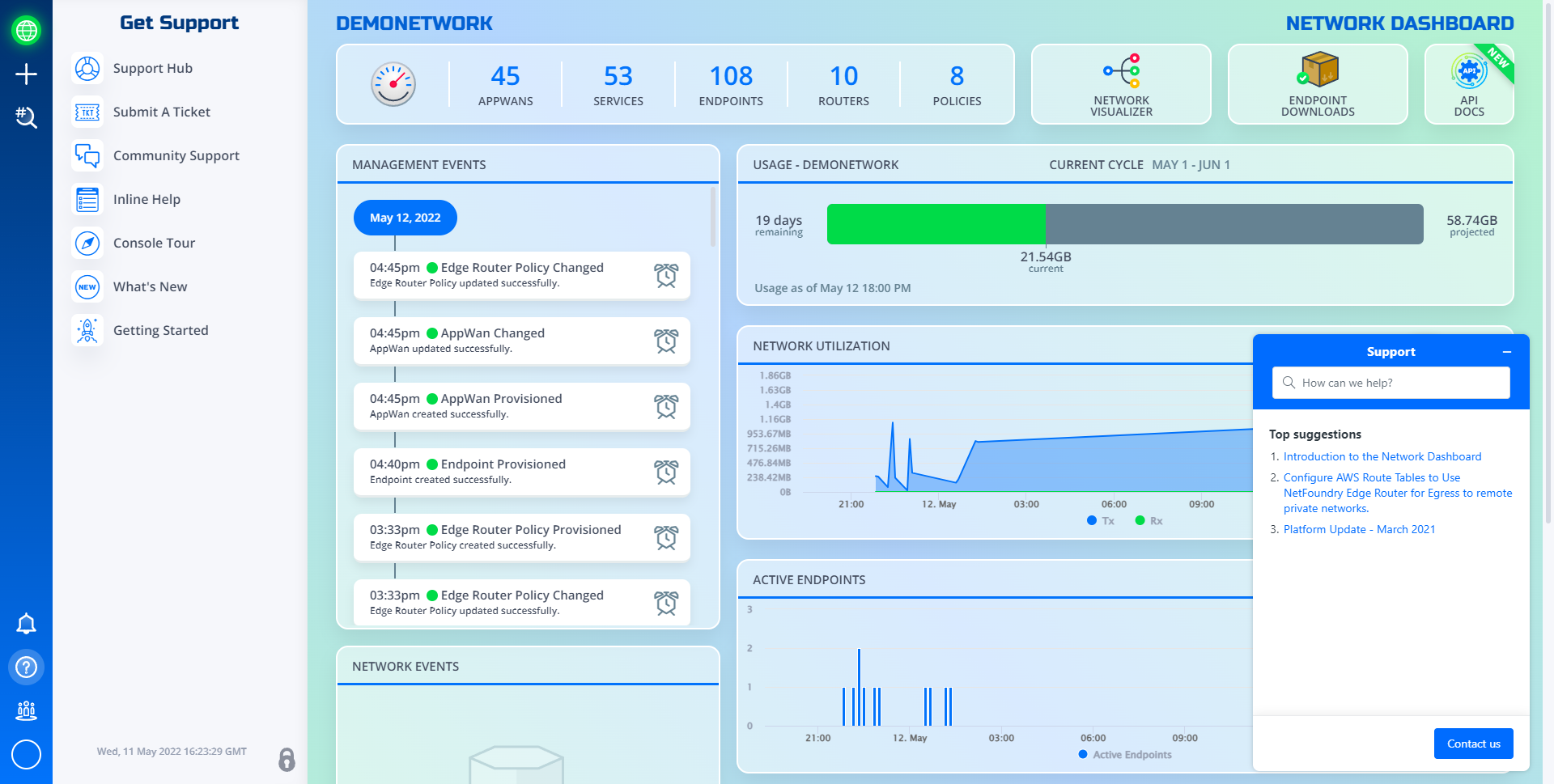 Submitting a ticket via Support Hub
1. At the top right corner of your screen, click on Submit A Request.

2. A request form will appear. Fill in the form with appropriate details.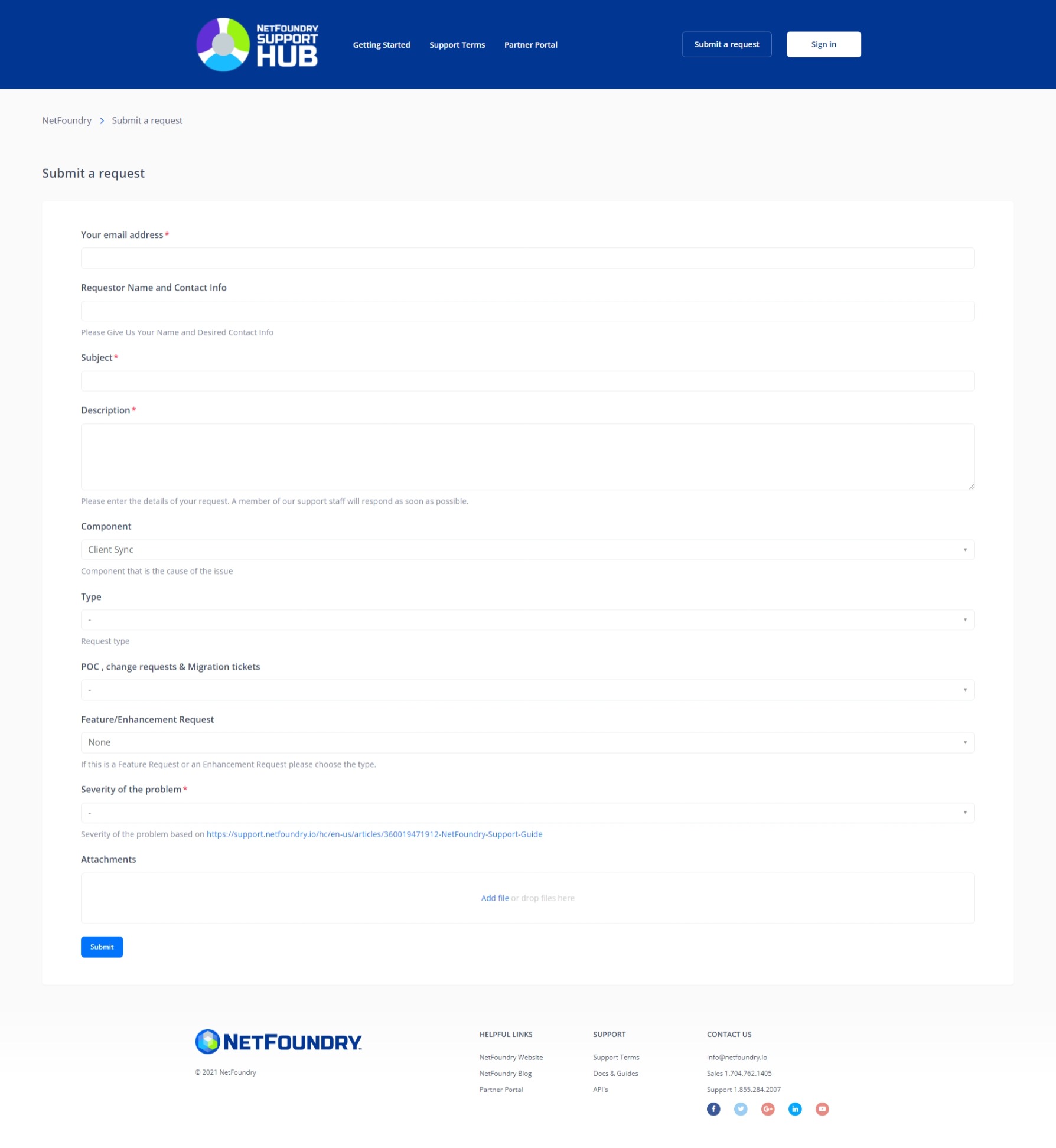 3. Select the appropriate labels for your concern.

4. Attach a file and/or logs if possible. You can attach up to 50 MB file size.

5. Click on Submit.

Managing your tickets via Support Hub
Once a ticket has been submitted, customers and partners can view and manage all their requests by following these steps:
1. Sign-in to Support Hub using your registered email address.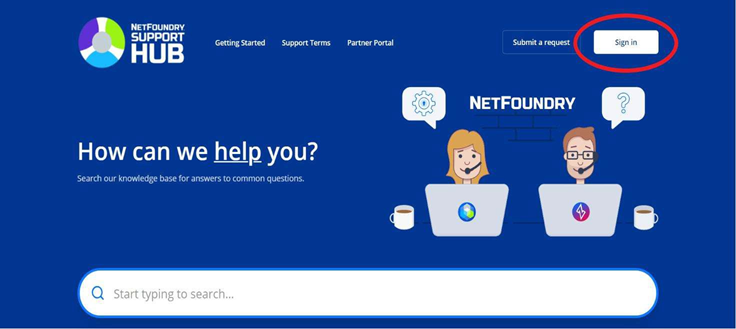 Note: If you first submitted a ticket via email but haven't yet signed in you can request a password to the system by using the "Have you emailed us? Get a password" in the lower left.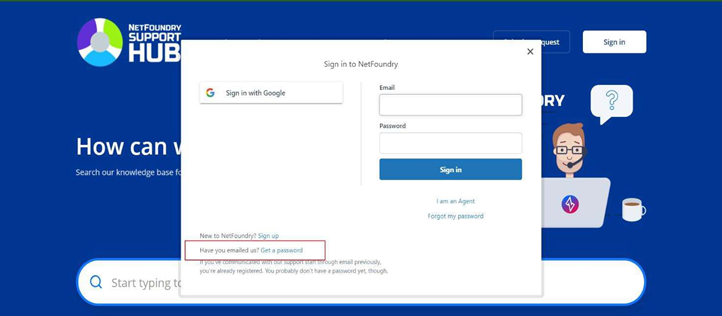 If you've never logged in before or never submitted a ticket via email, use the "New to NetFoundry? Sign up" link.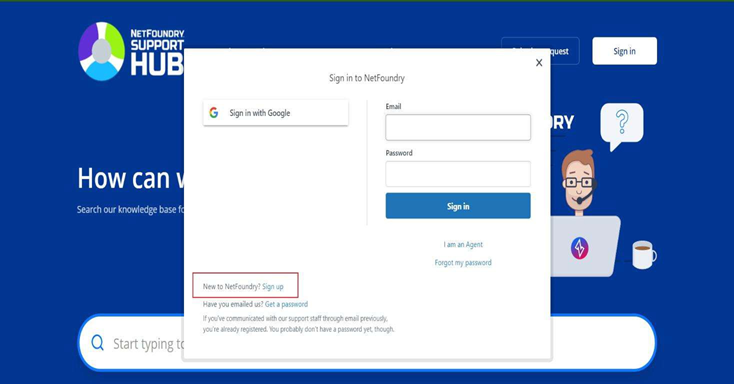 2. On the top-right corner, click on the drop-down menu under your profile icon. Then select My Activities.

3. On your My Activities page, you will notice three tabs. These are (1) requests, (2) contributions, and (3) following. In Contributions tab, it displays all your comments on the Community page or in the article pages. Meanwhile, the Following tab displays all the articles you are currently following.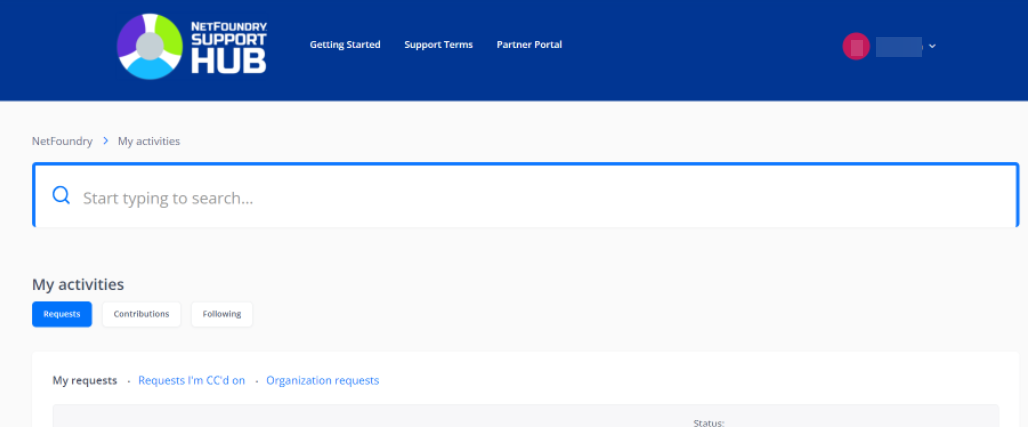 4. Requests tab is the default page. You may filter your view by choosing to display either all your requests submitted (My requests), requests you are looped in (Requests I'm CC'd on), or requests made by all users in your organization (Organizational Requests).