This article applies to NetFoundry networks version 7 or higher.Refer to Finding Your Network Version for detailed information on determining your Network Version.
Overview
This guide goes over the specifics of creating and managing Edge Routers in the NetFoundry Console. You may also go back to Create and Manage Your Network.
Create Your Edge Router
To create your Edge Router, go to Network Settings → Edge Routers to get the process started. Click the blue plus-sign in the upper right corner to create a new Edge Router.

On the 'Create a New Edge Router' screen, you'll see options for name, attributes, and hosting. A unique name is needed to create an Edge Router. Next, either select from your list of already created attributes, or create a new one. If you have service attributes already created, you'll need to click on the field to populate the list of attributes to choose from. When creating a new attribute, hit ENTER to populate the attribute.
Edge Router hosting is optional. The easiest way to create an Edge Router is to let NetFoundry host it for you on a static public IP address, but a self-hosted Edge Router is more useful for extending your network into your own private LANs and VPCs. If the switch is toggled OFF that means you will need to set up a host for your Edge Router. If the switch it toggled ON then your Edge Router will be hosted by NetFoundry in the selected data center.
NetFoundry-Hosted Edge Router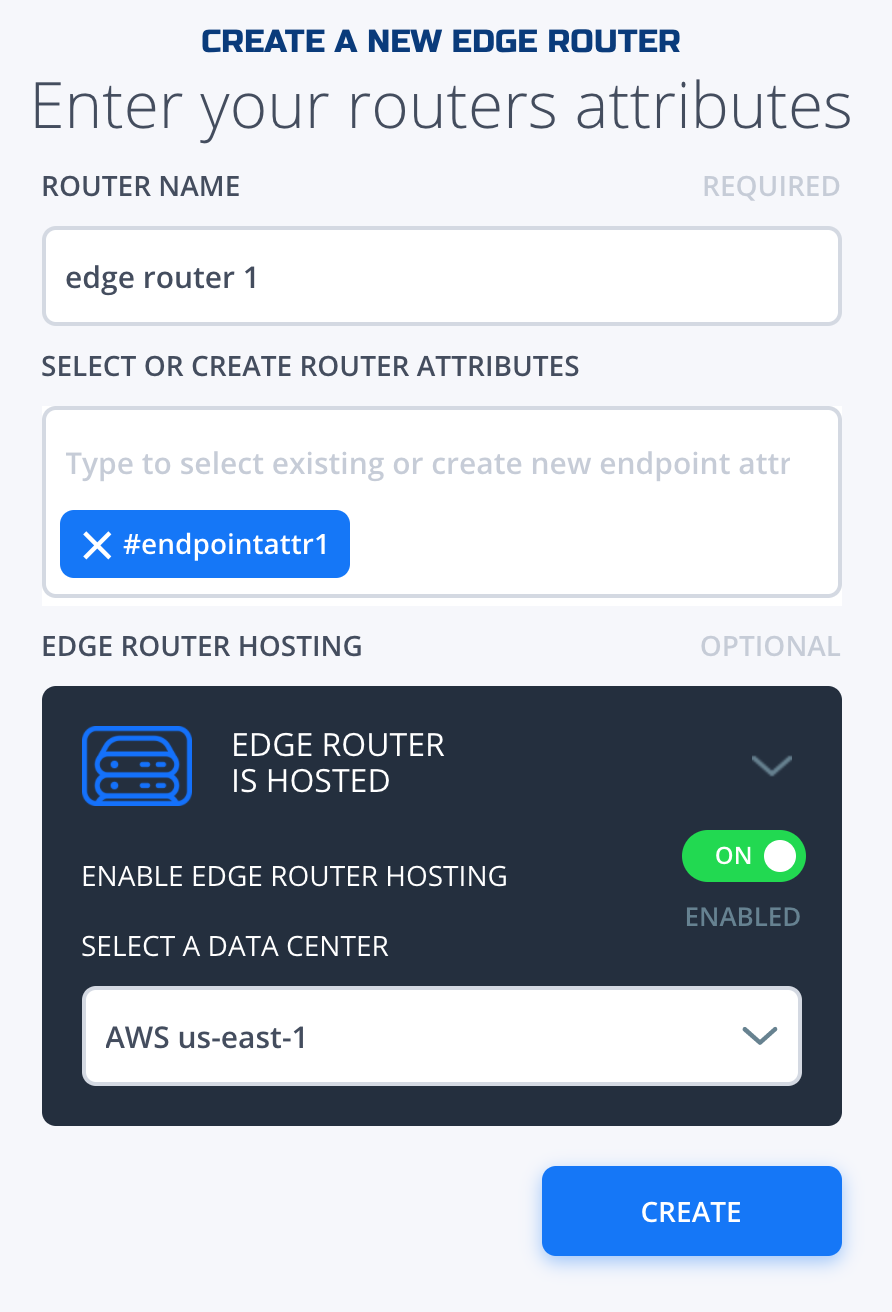 After Selecting the CREATE button, the console will display the Manage Edge Routers list page. The hosted Edge Router will be created automatically in the background and will show PROVISIONED status when completed.
Self-Hosted Edge Router
NOTICE: You've found an early version of this section about self-hosted Edge Routers. Self-Hosting for Edge Routers is under aggressive development. Please reach out to Support and let us know what you are building! We're excited to support your case and will continue to publish the latest here in Support Hub.

After Selecting the CREATE button, the console will display the information page. Edge Routers are typically self-hosted. The easiest way to self-host is to launch or download our cloud gateway VM. The VM may be deployed by following the DOWNLOAD button and enrollment instructions will be made available via the VIEW (instructions) button. After enrollment, Console will show statuses PROVISIONED and REGISTERED.

Manage Your Edge Routers
To manage your existing Edge Router, navigate to the Edge Routers page. You can click on an Edge Router row to edit it or use the ellipsis menu at the end of each row to take actions on the individual Edge Router. Use the select bubbles in the first column of the table to select multiple Edge Routers for bulk delete.

When editing an existing Edge Router, the screen will look the same as the 'Create a New Edge Router' screen, except that you'll click 'Update' to finish editing your Edge Router, instead of create.