Introduction
This install guide will walk you through the steps required to launch a NetFoundry Gateway Instance in your Azure VNET.
Launching a Gateway Instance
Installing a NetFoundry Gateway into your Azure VNET is very straight forward. NetFoundry includes a CloudFormation Template to launch a new gateway instance with only a few steps:
Step 1: Create an Azure Cloud Gateway in the NetFoundry Console
Sign in to your NetFoundry organization;
Navigate to the Gateways page, and create a new Azure Cloud gateway. Give it a name and location, then click the Create button;
Take note of the registration key. You will need it to register the gateway in step 3.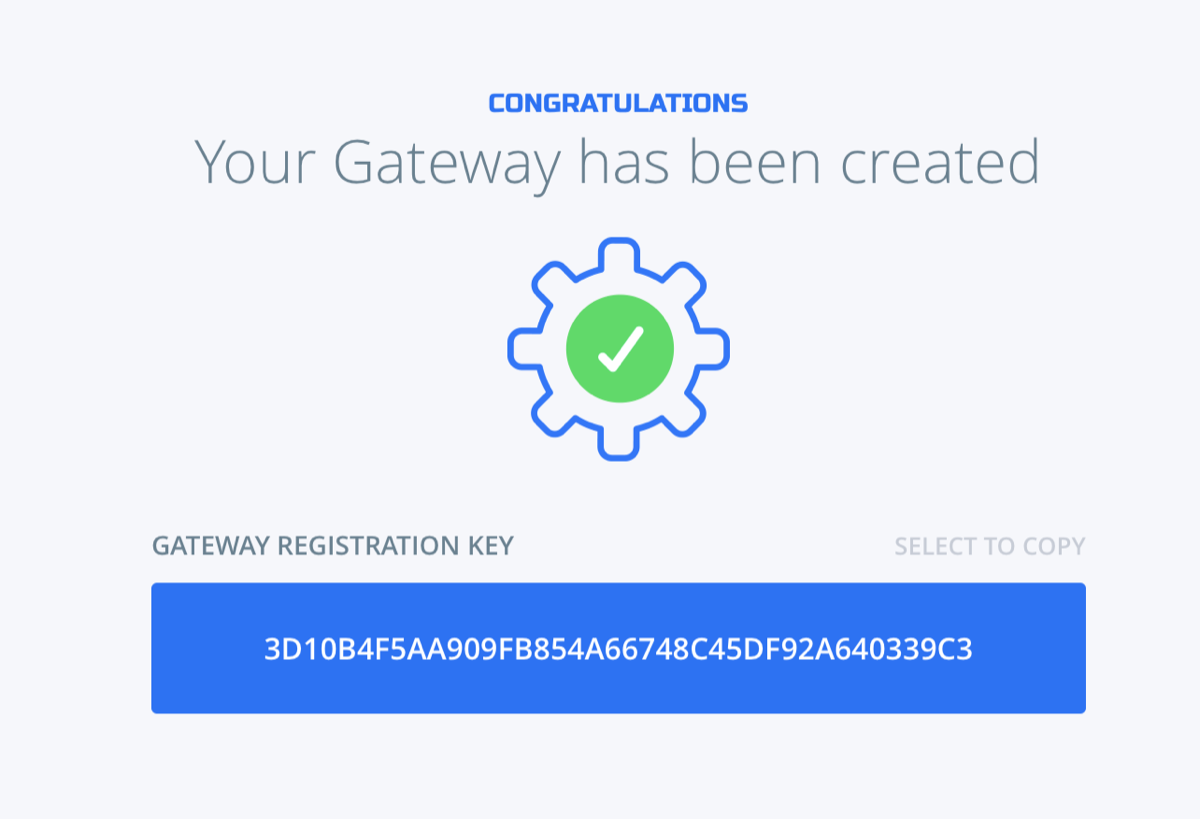 Step 2: Launch a NetFoundry Gateway Instance Inside of Your Azure VNET
Sign in to your account on the Azure portal and go to → Resource groups.
If you haven't already created a resource group "NetFoundry," do so now;
Once inside the resource group, Click the "+ Add" button on the toolbar;
Search for "NetFoundry Cloud Gateway". Click on the result, the description should be shown.
Click the "Create" button to launch the wizard.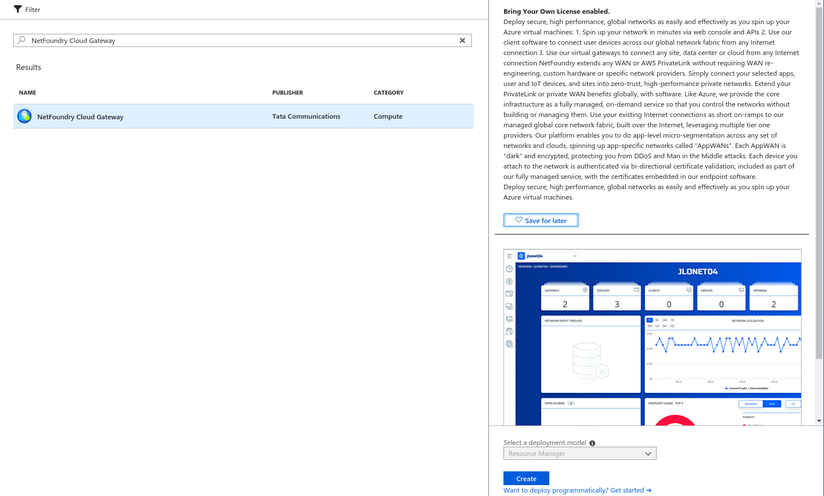 Enter basics information:
Fill in the "Name", e.g. "NetFoundryGW";
VMdisk type, both are supported. PremiumSSD is default;
Select your required availability options;
Fill in the Username as "nfadmin". The username must be "nfadmin" to gain access to this gateway;
Fill in the SSH Public Key, if you don't already have a global key, or provide a password;
Select your subscription;
You can create a new resource group or select an existing one;
Choose a location in which to launch the gateway;
Click "OK" to continue.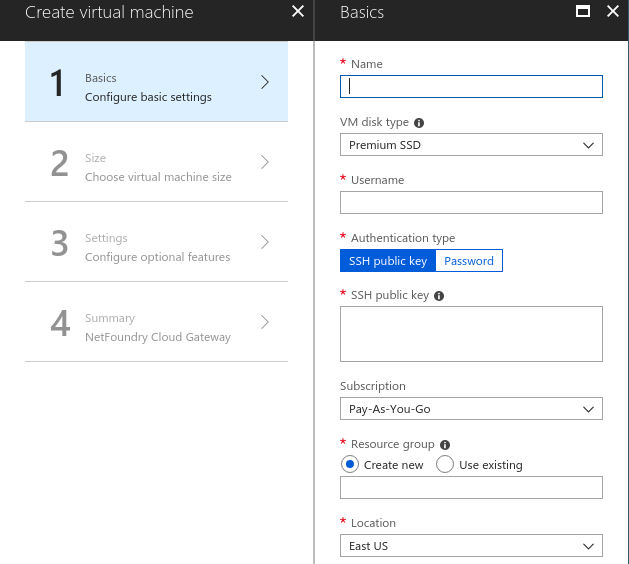 Enter Sizing information. Select a size and click on "Select".
See Edge Gateway Sizing Guide for information on sizing.

If you already have a specific network to launch within, you can select it here. Otherwise Azure will launch into a new network & create a network rule to allow SSH access inbound.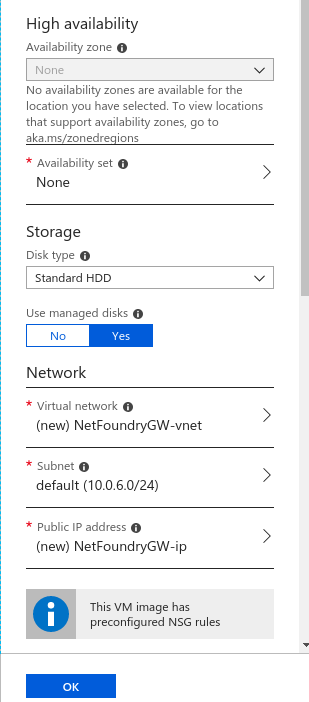 Click on "Create" to launch the gateway.
Once the resource is created, go to the resource group & click on the virtual machine name to view the details. Locate the machine's public IP address.
Using an SSH client, log in to the machine using its public IP address as the user "nfadmin", using the SSH key specified earlier.
Example: OpenSSH
ssh -i private_key nfadmin@<public IP address>
Most common causes for registration to fail in Azure are:
Not having an IP assigned (correctly),
not having a working default gateway for Internet access,
not having a valid DNS resolver.
See Troubleshoot Client and Gateway Registration Errors for more information.
It may take up to 5 minutes to register and come online. Once the Gateway Instance has started up, switch back to the NetFoundry Console and locate the Gateway Endpoint.
Confirm that the status indicator is green, which means that it has successfully registered and is online. If the status indicator remains grey, then the gateway has failed to register. If it is red, the gateway has registered, but is offline.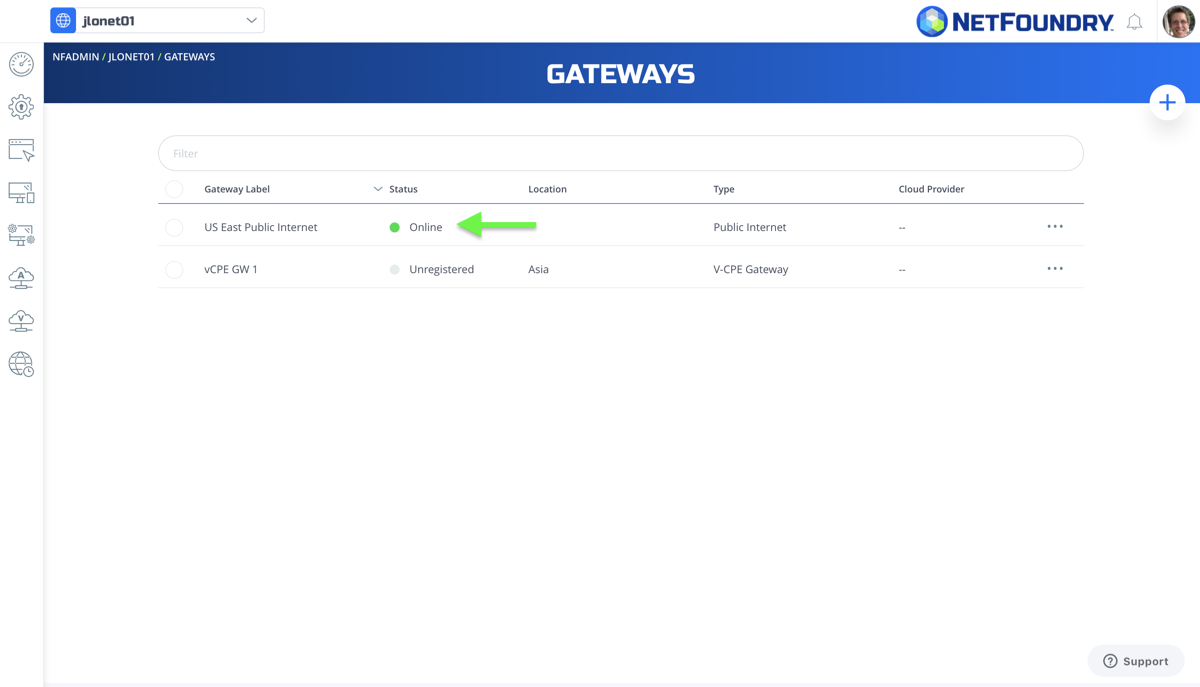 Recommended Next Steps
1. Update the YUM package management system
> sudo yum clean metadata && sudo yum update
2. Ensure you change the password for the "nfadmin" user account, per your company guidelines.
Should you require RADIUS, please contact NetFoundry.