Get the VM
Select your desired VM stack from the NetFoundry Downloads page:
VMware: VMDK disk, VMware specific ovf file. open-vm-tools is installed.
Virtualbox: VMDK disk, VirtualBox specific ovf file.
KVM: QCOW2 disk with README file
Hyper-V: Gen1 VHD disk with README file
RAW: compressed .img disk image
Register the VM
If your VM stack provides a way to run a script on first boot you may use something like this, substituting your own registration key:
The VM is running CentOS and contains configuration for a single interface, called "eth0", depending on VM stack. If you add another interface, it will follow the naming schema "eth[n]", where [n] is incremented numerically, depending on your VM stack.
CentOS provides an easy interface called "Network Manager Text User Interface" that can be used to configure the local interfaces.
Launch the tool by running
> sudo nmtui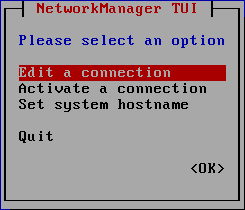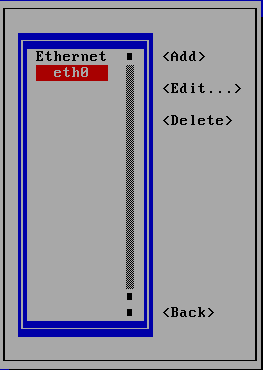 Modify IP/Network/Routes/DNS/etc configurations as needed for each network interface.
Requirements
You MUST have a valid IP gateway and DNS configuration for registration to succeed.
If assigning a static IP within the "Edit Connection" screen of "nmtui", you must use CIDR notation to also specify the network prefix. For example, "10.1.1.4/24" means the IP address is 10.1.1.4 with a 255.255.255.0 netmask. If you do not include the network prefix, the system will assume it to be /32. Refer to this TechTarget article for more information.