This article applies to NetFoundry network Products version 7 or higher. Refer to Finding Your Network Version for detailed information on determining your Network Version.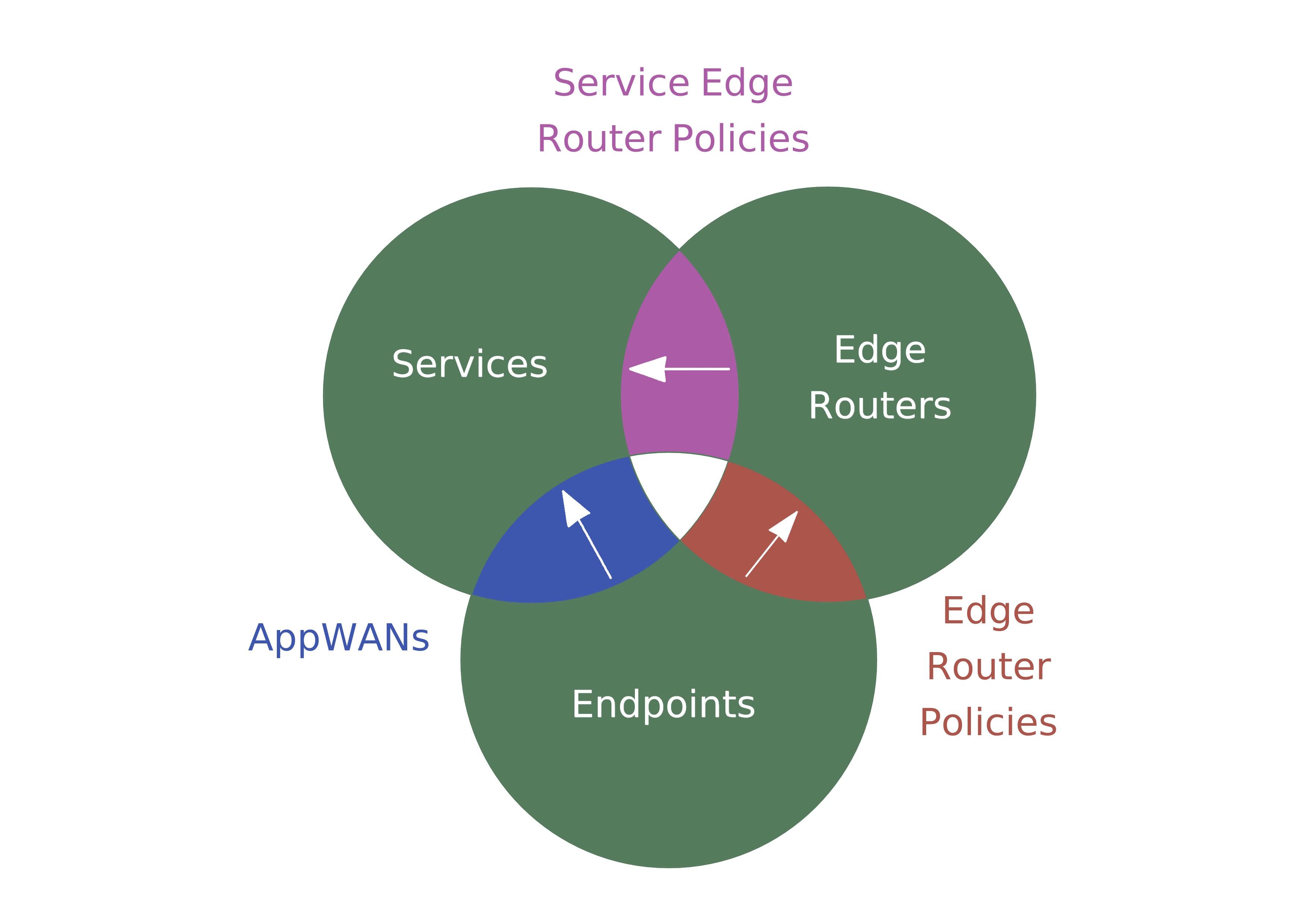 Resources
Role attributes are represented in the web console as a #hashtags and appear on three types of resources:
Endpoints

Services

Edge Routers
Service authorizations and router configurations are created by matching attributes on resources and policies. A policy may also @mention a particular resource by name. There are three types of policies:
AppWANs
authorize Endpoints to Services

Edge Router Policies
configure Endpoints to Edge Routers

Service Edge Router Policies


configure Edge Routers to Endpoint-hosted Services
Endpoints
Endpoints match AppWANs to authorize the Endpoint to dial the Services in the AppWAN.
Endpoints match Edge Router Policies to configure the Edge Routers that Endpoint will use to dial Services. You could add #defaultRouters to all Endpoints, Edge Routers, and Edge Router Policies if you do not have a need to configure routes.
Edge Routers
Edge Routers match Edge Router Policies to become available to Endpoints for dialing Services.
Endpoint-hosted services only: Edge Routers match Services to determine by which Edge Routers a hosted Service is dialed by Endpoints.
Services
Services match AppWANs to make the Service available to Endpoints that match the same AppWAN.
Endpoint-hosted services only: Service field edgeRouterAttributes matches Edge Routers to configure them for this Service. This determines by which Edge Routers a hosted Service is dialed by Endpoints.
Hosted vs Terminated
A Service is either hosted or terminated. Service Router Policies are only necessary for hosted Services. A server described by a hosted Service is inside the NetFoundry network, and a server described by a terminated Service is outside the NetFoundry network.
Examples
Hosted: An Endpoint that is an SDK app with a built-in server may host a Service.
Terminated: A server that is accessed at a public IP address by an Edge Router is a terminated Service. The Edge Router terminates the Service on the edge of the NetFoundry network.