Overview
This guide goes over the specifics of creating and managing Ziti Networks in the NetFoundry Console.
If you are unfamiliar with Ziti, read more about it here.
Create a Ziti Network
The steps for creating a Ziti Network is similar to those for creating a regular Network. Go to Network Settings → Manage Networks to get the process started. Click the blue plus-sign in the upper right corner to create a new network. Ziti Networks will be labeled '7' in the 'Version' column. 'Provisioned' means your network was successfully completed.

On the 'Create a New Network' screen, you'll find fields for your Network Group, Network Type (Version), and Network Name. As always, a unique name is needed to create a Network. To create a Ziti Network, select 'Version 7 (Experimental)' and give your network a name. Then click 'Create my Network' to finish the process.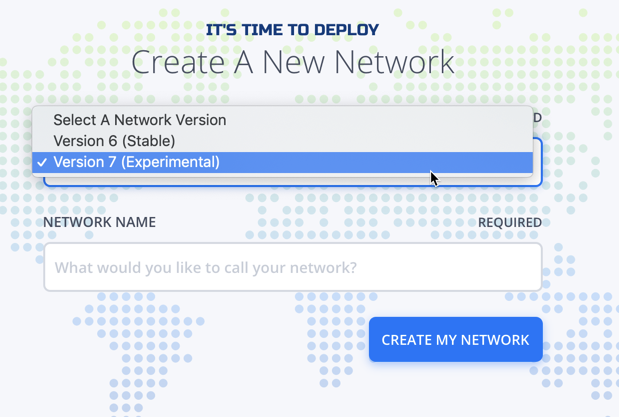 Your new network will show a grey spinning globe and a status of 'Provisioning' while it is being created. In a few minutes, the globe will turn green and the status will change to 'Provisioned'. After that you are able to create your other Ziti components.

Manage Your Ziti Network
To manage your existing Ziti Network, navigate to Manage Networks. Click on a network row to edit it. Use the ellipsis menu at the end of each row to take actions on an individual network. Use the select bubbles in the first column of the table to select multiple networks for bulk delete.
At this time, you are only able to delete a Ziti network, not edit it.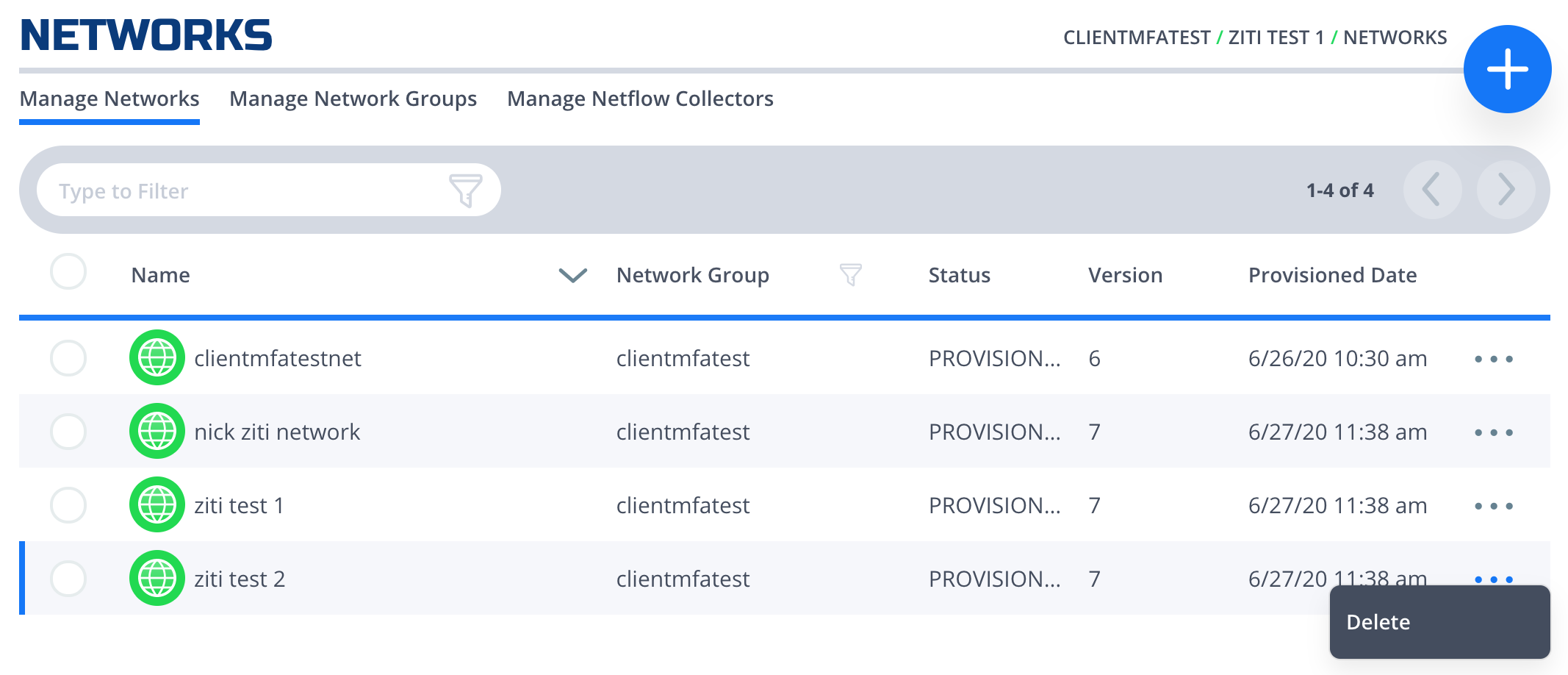 Ziti Network Dashboard
For you Ziti Network Overview and Component information, navigate to the Ziti Dashboard by Selecting the Globe ("Network Settings") at the upper left of the Console. When the Management buttons appear, select the "Network Dashboard" button. This will give you an overview of your currently selected network. Select Component boxes or Navigation buttons for specific component management. The Component related installers can be found on the upper right "Download Installers" box. Network utilization timeframes can be customzied by selecting the desired time box (Note: this selection also affects Event timeline timeframe and any other time related information boxes).