NetFoundry is an orchestration platform for network as code. Utilizing NetFoundry's automation user's can build application specific, zero trust, global transport networks in a matter of minutes that enhance application security, reliability and performance.
A NetFoundry Network consists of 5 major elements.
Endpoints are software installed onto a user's device, on an operating system, or embedded within an application utilizing NetFoundry's Ziti SDK.
Edge Routers are either NetFoundry Hosted (NetFoundry Global Fabric) or Customer Hosted and provide ingress/egress of network traffic between endpoints.
Services encapsulate

the definition of any resource that can be accessed by a client on a traditional network.

Attributes and Policies are used to set rights to services and paths.
APPWANs define the services that endpoints can reach over the NetFoundry network.
To get started you'll need:
A NetFoundry Account/Organization. A seven day free trial is available, sign up here.
Public cloud account

(such as an AWS or Azure subscription), or have the necessary privileges to

install a virtual machine

and/or

install software

onto a machine in your environment.

An internet connection with outbound connections to the below ports.
| | |
| --- | --- |
| Description | Port Numbers |
| One time registration of endpoint into the NetFoundry Network and regular connectivity over the NetFoundry Network | |
Examples
Click "Hello World" above and walk through the example. Users will:
Deploy a NetFoundry Hosted Edge Router
Create a customer hosted Edge Router and utilize a Cloud Formation script in your AWS account to provision/deploy this Edge Router. The Cloud Formation script will also install a webserver with a "Hello World" page.
Create and install a NetFoundry Endpoint.
Create an Edge Router Policy to allow the Edge Router and Endpoint to provide ingress/egress of traffic over the NetFoundry network.
Define a Service that is the application you want to reach.
Create an APPWAN defining the endpoints that can access a service.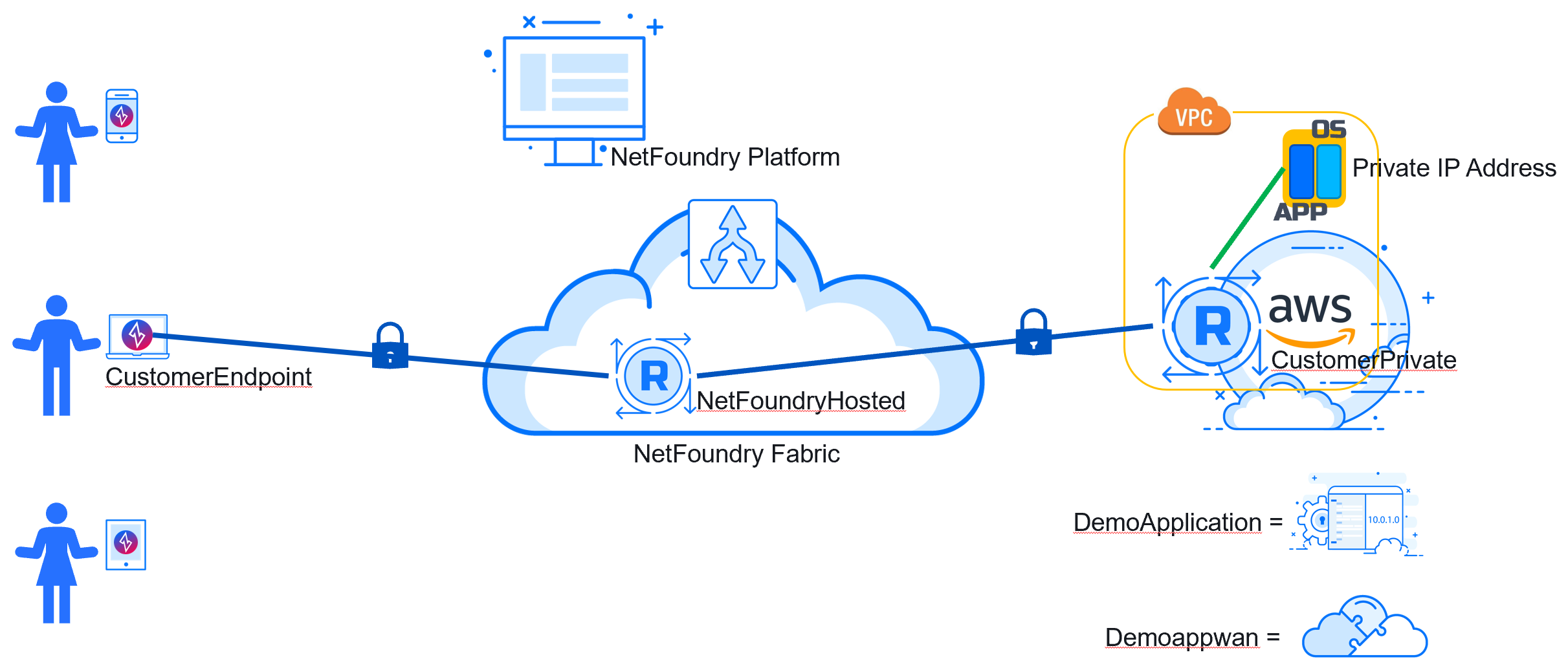 Create via API
A user can create a network and it's necessary components via the NetFoundry API. These examples are available here: https://developer.netfoundry.io/guides/demo/
The script, via NetFoundry API's, will create a complete NetFoundry Network that you may then extend for your own purposes. The following will be added to the NetFoundry Network that you specify:
AppWAN: "Welcome"

Services #welcomeWagon

Fireworks Service
Echo Service
Weather Service

Endpoints #workFromAnywhere

Edge Routers #defaultRouters