This article applies to multiple NetFoundry network Products (version 6 and prior, and version 7 or higher). Refer to Finding Your Network Version for detailed information on determining your Network Version.
Product Version 7 and higher Networks
Product Version 6 and prior Networks
Introduction
Your organization will have one or more NetFoundry Networks associated with it. Each network is an entirely stand-alone, air-gapped environment, i.e. networks cannot share clients, gateways, endpoint groups, services, or AppWANs with other networks.
Product Version 7 and Higher
Create a Network
The steps for creating a Network is straightforward. Go to Network Settings → Manage Networks to get the process started. Click the blue plus-sign in the upper right corner to create a new network. 'Provisioned' means your network was successfully completed, and this typically occurs in less than twenty minutes.

Alternatively, you can select " + Add a New Network" to create a Product Version 7 Network.
On the 'Create a New Network' screen, you'll find fields for your Network Group, Network Type (Version), and Network Name. As always, a unique name is needed to create a Network. To create a Network, select 'Version 7 ' and give your network a name. Then click 'Create my Network' to finish the process.
Your new network will show a grey spinning globe and a status of 'Provisioning' while it is being created. In a few minutes, the globe will turn green and the status will change to 'Provisioned'. After that you are able to create your other Network components.

Manage Your Network
To manage your existing Network, navigate to Manage Networks. Click on a network row to edit it. Use the ellipsis menu at the end of each row to take actions on an individual network. Use the select bubbles in the first column of the table to select multiple networks for bulk delete.
At this time, you are only able to delete a network, not edit it.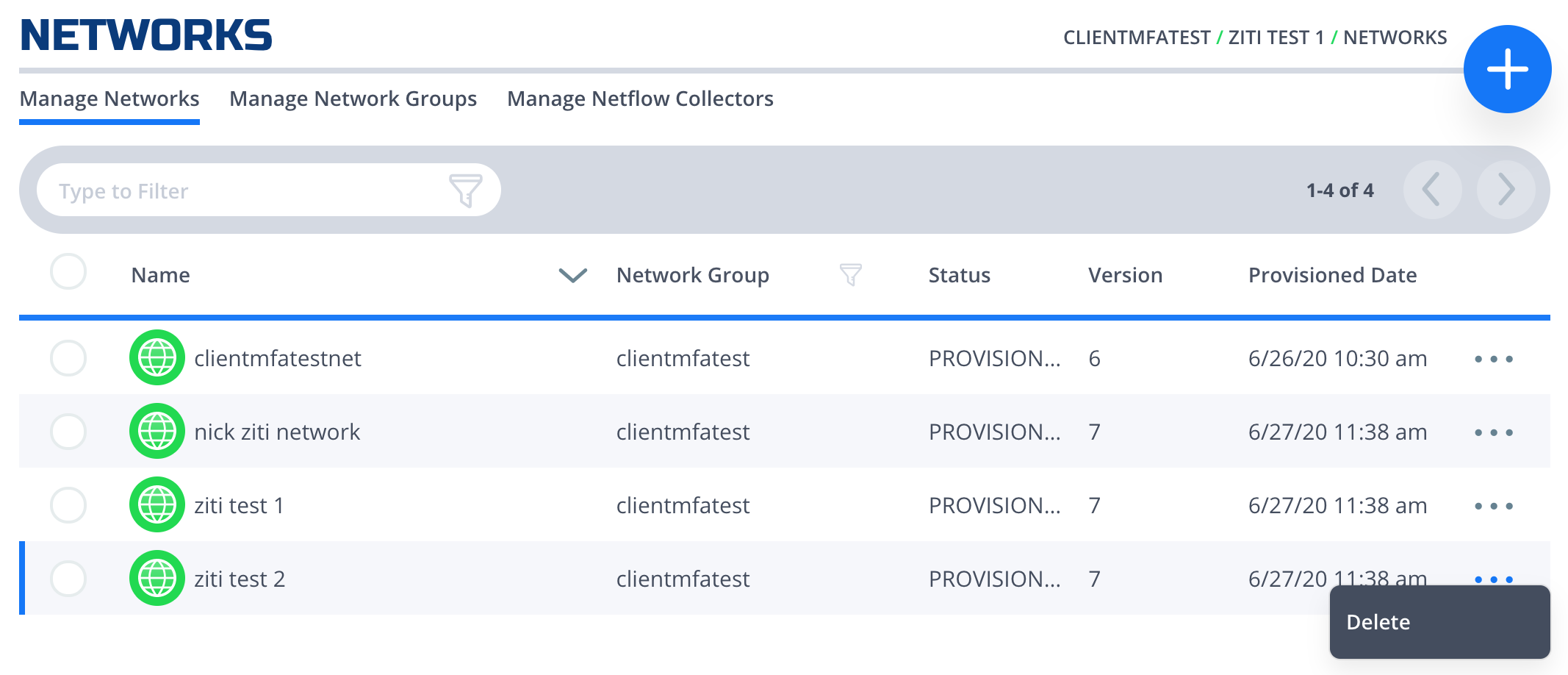 Network Dashboard
For Network Overview and Component information, navigate to the Dashboard by clicking on the green globe (Network Settings) at the upper left of the console. When the Management buttons appear, select the Network Dashboard button. This will give you an overview of your currently selected network. Select Component boxes or Navigation buttons for specific component management. The Component related installers can be found on the upper right "Download Installers" box. Network utilization time-frames can be customized by selecting the desired time box (Note: this selection also affects Event timeline time-frame and any other time related information boxes).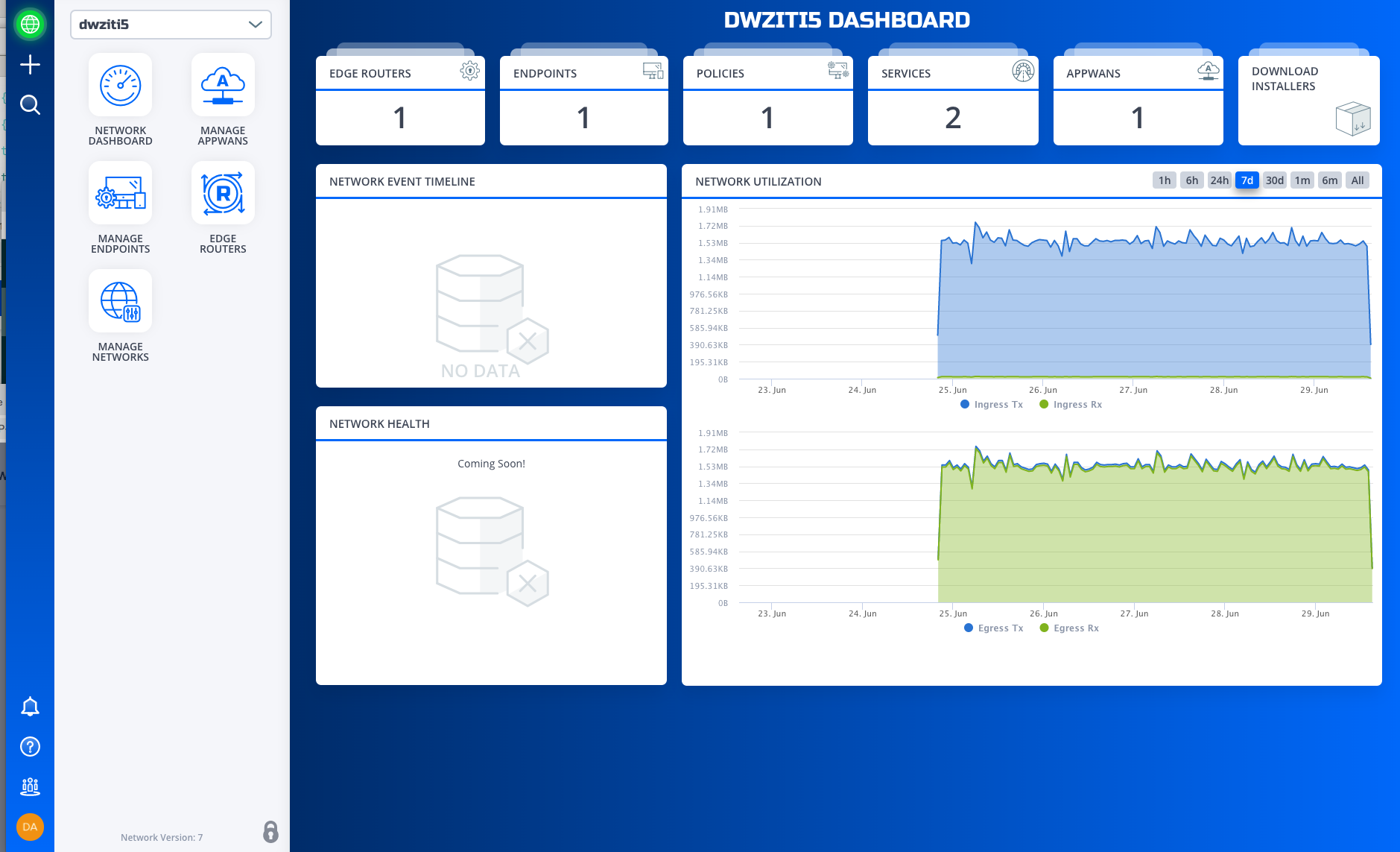 Product Version 6 and Prior
Viewing Networks in the Console
To change which network you are viewing, use the pull-down menu in the upper lefthand corner of the page to select a network. Use the input box at the top to filter the list.
Manage Your Network(s)
In the console, you manage your organization's networks from the Manage Networks page. Click on the green globe icon to open the navigation menu. From there, click on Manage Networks. From this page you can:
Create new networks
Rename networks
Delete networks
View network details
Set O365 optimization preferences
Download YML files of your networks
Click the blue plus-sign in the upper right corner to create a new network. Use the ellipsis menu at the end of each row to take actions on an individual network.
Deleting a network is permanent. All clients, gateways, services, groups, and AppWANs will be deleted as well. You cannot undo a deleted network.
Refer to Configure Microsoft O365 Optimization for more information about setting O365 optimization preferences.
Create a New Network
To create a new network, click the blue plus-sign icon in the upper-right hand corner of the page. You are prompted to give your network a unique name.
It will take a few minutes for NetFoundry to stand up the required infrastructure to support it. While it is being built, the Console will show a spinner icon next to the Network's name. Once it is finished the icon will change to a green circle, and you may begin provisioning your network.
You are also able to create a new network as code. More information on on 'as code' creation can be found here: Network as Code
View Network Details
To view details about your network, choose Details from the ellipsis menu in the networks table.
A dialog opens showing you the IP addresses, protocols, and ports associated with the underlying network infrastructure. These IP addresses and ports should be whitelisted in any outbound firewall whitelists you may have deployed in your network perimeter.